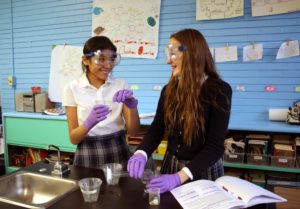 Science Club provides an opportunity for students in grades 3-4 to participate in an after-school Science Club.  The Science Club is designed to be an adventure for the students and a learning opportunity for a classroom teacher.  Activities are aligned with the Science and Engineering Practices as outlined in the Next Generation Science Standards (NGSS).  By asking questions, making observations, creating models, and conducting investigations students hone their scientific skills that foster critical thinking.  As part of their hands-on investigations, students practice constructing explanations, collaborating with others, and communicating findings.
Coding Club – As coding is a part of a class that middle school students take, primary students can also get a head start on learning the foundations of coding with Middle School teacher Ms. Choi.  Coding club is offered after school for students in grade K-3.  Students will use various platforms and games to start building on the essential ideas of coding such as sequencing an looping.  Students will be able to move at their own pace and work on developing a product they can create using coding."
Choir Director, Mrs. Dychiy, attended the College of Music and
Pedagogical University in Ukraine.  She completed her studies at Louis University and Dominican University.  She is the Music teacher for all grades and the Director of the School Choir, which sings the Divine Liturgy.  The choir received a special invitation to welcome the President of Ukrain – Viktor Yuschenko and the First Lady when they came to Chicago.  They also had the honor to perform for the Big Shoulders Fund Board Meeting at the Chicago Club.
Brush Creek Ranch Science Enrichment Program offers once in a lifetime experiences for students.  The Brush Creek Ranch Science Camp offers students opportunity to learn by doing:  looking for animals tracks while out hiking, discerning the difference between predator and prey by dissecting owl pellets, taking and testing water samples from the Wyoming Mountains, and learning about constellations while stargazing. Students are pushed out of their comfort zones, challenged by activities which include horseback riding, high/low ropes course, and zip lining, while their teachers and ranch staff cheer them on.
Girls Volleyball – Grades 5 to 8
Congratulations Angels for making it into the semi-finals!